Antoine (Br Michel) Colombon
From Marist Studies
From THE FIRST WAVE OF FRENCH MARISTS by Michael O'Meeghan SM, 2008, 9.

Br MICHEL (Antoine) COLOMBON, aged 26 (on arrival in New Zealand in Group I on 10 Jan 1838).
He remained at the Hokianga station till the arrival of Group II in mid 1839 when he was transferred to Kororareka. In mid-1840 he left the Marists, though for a few years retained some link with them by acting as a catechist at Whangaroa. Later he lost contact. His last years were at Reefton where he was a jobbing gardener known as Antonio Michel, alternatively "Jemmy the Gardener". He died there on 14 March, 1880, aged 68, and is buried in Reefton Cemetery as Antonio Michel.
Dismissal from the Congregation by Bishop Pompallier
This paragraph from the August 1840 letter of Pompallier to Colin sets out Pompallier's side of the story
But, very dear Father, I haven't yet described the whole of the cross I have had to carry this year; it has been made much more obvious to me through the loss of Dupéron. Alas, Brother Michel,[8] a young man who is too sensitive, too affectionate, too feminine in his character, has fallen into particular friendships here which have drawn suspicions on himself even outside the house, and then, into the theft of many things from the mission, and into hypocrisy. For more than two years he was a cross for me, because I could certainly see that the subject was morally in decline. I caught him out several times, giving little presents, signs of affection, to neighbours, and, in particular, to a young married woman. After having caught him out again and reprimanded him and many, many times severely punished him, then finally having threatened to expel him if he lapsed again, I kept my word on his next fall from grace, which involved receiving from a stranger a little jar of hair cream having sent it behind my back, with a letter, to a family he liked, that is to say, to a little girl and her mother, [(Added by the writer in the margin) it was this little jar of hair cream which revealed everything] then for having haggled over a shawl in order to buy it and send it, probably to the same person. Finally, he had hidden among his possessions, some neckerchiefs, some items of hardware, pieces of material etc etc, a sort of little glory box quite suitable for a wedding celebration, and this conduct happened while misleading the poor Fathers to whom he went to confession, since he approached the sacraments in a state violating his vows and even justice as well. I dismissed him without remission, since it was the third time he had fallen in such a pitiful manner. He has gone to working at his trade as a tailor five or six leagues [25-30 km] from the mission station and so is mixing with a number of the many Europeans who are arriving every day to colonise this country. The mission has not suffered in any way by this dismissal: God's works do not get hurt by the elimination of members who make themselves unworthy of them. May the Lord have mercy on him: that is all I desire. I think that Father Champagnat will make a real effort to get a tailor to replace him, and to repair, by his exemplary conduct, the little injury done to the body of the Brothers.
A footnote from Doc 71 gives this useful list of primary documents:
This is the first mention of the problems of Brother Michel (Antoine Colombon), who had been among the first group of missionaries who had left Le Havre on 24 December 1836 (Cf Docs 1 [3,5], 24 [3,13], 27 [1,3], 28 [17]. In September 1838 Father Servant called him "good Brother Michel" (Doc 31 [2]). In June 1839, according to Father Baty, Brother Michel was convalescing at the Bay of Islands (Docs 32 [2] and 76 [2]. In August 1839 Pompallier said that Brother Michel was at Hokianga with Fathers Servant and Baty, and Brother Elie-Régis (Etienne Marin) (Doc 33 [7]). On 3 March 1840 the Brother accompanied Father Viard and the Bishop on a voyage along the coast of the North Island (Doc 51 [1]).
Epalle gives this account in August of 1840:
[3] Brother Michel is no longer a member of Mary's little family. He was cast out a month or more ago, and had been deserving this for a long time, but circumstances and a glimmer of hope that the methods used would correct him persuaded His Lordship, monseigneur Pompallier, to delay doing something so painful. But being addicted to stealing is like being addicted to wine. It is hard to break the habit, especially when the stealing is done to satisfy the strongest passion, that of love. This unfortunate man loved a family to distraction, one could say. It was to give gifts to this family that he was stealing things from the mission and also to deck himself out in a manner that was hardly appropriate for a little Brother of Mary, to say no more. As soon as there were two stations in New Zealand, monseigneur lost no time in removing him from the object of his affections, but after a year, or almost a year, of separation, his feelings were as strong as ever, and the obligations of morality and religion were being no better observed. Could the Holy Virgin endure conduct like this in her family? This good Mother knows what lies behind the vile and only too well-founded suspicions that have been voiced publicly about this unfortunate man in relation to moral behaviour. What is quite certain is that his particular affection was for the wife of this dear family.
When the NZ Marist Province developed a residential zone called "Pompallier Estate" next to Pompallier Catholic College in Whangarei they named streets after the Poynton Family, Fr Catherin Servant and Br Michel Colombon.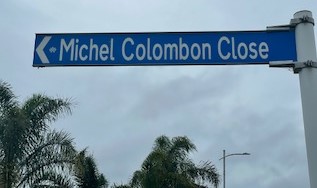 Links to primary documents
Research by Elizabeth Charlton
Colombon F.M.S., Antoine (Br Michel)
18310830 entered Hermitage OFM2 doc 144 OFM3 doc 497.10
18311002 took Habit OFM3 doc 497.10
18320101 secret temporary vows OFM3 doc 569.19
18340407 secret perpertual vows OFM3 doc 575.14
183610xx public perpertual vows OFM3 doc 576
18361224 left Le Havre on Delphine
18380110 arr Hokianga from Sydney
1844 April returned to the mission - at Whangaroa with Rozet LRO doc 325, LO 46, 50
1845 Jan retreat at Mangakahia Garin Journal
1845 LRO 395 - error in naming who was travelling; it was Bishop Pompallier who arrived in Sydney from Auckland 18450903 on Hannah
1845 Nov at Auckland with Forest, Seon, Br Florentin LRO doc 434
18520511 "A. Colombon" left Auckland on Glencoe for Melbourne New Zealander 12 May 1852 Page 2; however shipping list shows "A Columbine, 30 years, Native Country England" PROV
1873 in Westport? There is "A. Michel" fruiterer Westport Times 18 February 1873 Page 2 and agent for NZ Tablet New Zealand Tablet 16 August 1873, Page 16
1877 in Reefton Inangahua Times, 14 December 1877, page 2
Antoine Colombon definitely in Westport in late 1872 – Garin writes to him!

In the typescripts I've tried Michel / Michell / Mitchell / Colombon / Antoine / Antonio / Jim / Michael to see if there was any earlier communication recorded – but no. Also tried these in Archives NZ and PapersPast – nothing further came to light. - Elizabeth
DNM 2/32 – 2/33 – transcription and footnotes by Peter Tremewan of letters of Garin
1872 - Jimmy Michel[1] - Nov. 2 - J'envoie lists of winning nos., also of winners residence.
1872 Jimmee Michael, Westport[2] - Dec. 11 - Qu'il veuille bien faire passer le paquet que j'envoie à Mr McGuigan et dire à Miss Keghan de me faire présent d'un ou 2 pounds pour les dépenses que j'ai faites pour lui expédier son instrument, Harmonium.
1879 Oct. 1 - F. Carew - Would Jimmy Mitchel[l] do for the man I want as specified by my letter to you. Would he be willing. Please telegraph soon.
1879 Oct 14 - F. Rolland - When will you send me one of the men you had in view for me. Jimmy Mitchel cannot come.

[1] This is the former Marist Brother Michel, born Antoine Colombon (1812-1880), who arrived in New Zealand with Pompallier in 1838 but left the Society after going on a retreat to Mangakahia in January 1845. See also letters of 11 Dec. 1872, 1 and 14 Oct. 1879.
[2] Called Jimmy Michel in an earlier Garin letter (2 Nov. 1872), this is the former Marist Brother Michel, born Antoine Colombon (1812-1880). Garin will later ask whether he would like to replace Brother Mary in Nelson (letter to Father Carew, 1 Oct. 1879) but he will not be available (letter to Father Rolland, 14 Oct. 1879).
The Brothers of the first wave of Missionaries

Back to Biographical Notes