Jean-Claude (Br Claude-Marie) Bertrand
From Marist Studies
From THE FIRST WAVE OF FRENCH MARISTS by Michael O'Meeghan SM, 2008, 17.

Br CLAUDE-MARIE (Jean-Claude) BERTRAND, aged 26 (on arrival in New Zealand in Group IV on 11 Jul 1840).
His first four years were shared between Hokianga and Kororareka. In 1845 he went to Opotiki for two years, and then to the Kaipara mission till Garin was withdrawn from there. Then he was back at Hokianga until 1850 when he went to Wellington with the Viard Marist exodus. Within a week he was on his way to Nelson with Garin. Apart from a two-year break at Napier he spent his next 39 years there helping with Garin's various school and orphanage projects. He died on 5 November 1893, touching 80, and is buried in Whakapuaka cemetery alongside Garin's memorial chapel.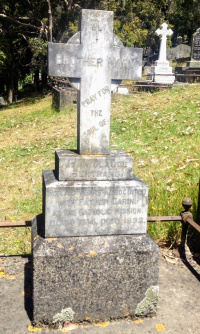 The Brothers of the first wave of Missionaries

Back to Biographical Notes