Girard0070
From Marist Studies
20 August 1840 — Father Jean-Baptiste Comte to Father Jean-Claude Colin, Akaroa
Translated by Fr Charles Girard & Fr Brian Quin SM, April 2012
[Address]

To Father Colin, Lyons, 4 Barthelémy [Bartholomew] Rise, France
Akaroa Harbour on Banks Peninsula in the island of Te Wai Pounamu
20 August 1840
J(esus) M(ary) J(oseph)
Very Reverend Father

[1]

I have been called back from the Hokianga for the mission in the South Island, called Te Wai Pounamu by the natives. Father Pèzant and I went on board the Aube at the Bay of Islands on 30 July. We entered Akaroa Harbour on 15 August, Assumption Day. So now on two occasions I have celebrated this beautiful feast while at sea. The next day, in the evening, two cannon shots were heard at the harbour entrance. It was the Comte de Paris.[1]. Its foremast had been shattered by two lightning bolts during the same night.[2] Two colonists died before landing.[3] In the political situation, matters seem really confused. England has declared sovereignty over all New Zealand. Some Englishmen claim they bought land before the French.[4] I do not know at all how things will turn out. There are only about thirty natives here in Akaroa. In a neighbouring bay and to the north of Akaroa there are 200 natives, I am told. There you have the number of the inhabitants of Banks Peninsula. They are all Methodists.

[2]

We will settle among the French colonists. Father Pèzant will be responsible for them. As for me, I will move to that bay I spoke about where the natives are more numerous. I do not know if I will be able to go there by land. You have to cross pretty high mountains. They are capped with snow and the natives do not like to walk barefooted on sugar; that is the name they give to both snow and white sugar.[5] It is said that these natives are very wicked and that they are not yet repelled by the taste of human flesh. All of that means nothing. Nothing will happen to us without God's permission. We have Mary as our mother. She will take care of her children. The natives I have seen here seem very good; they have assured me that those at Port Cooper[6] were not bad at all. There is some difference between the language here and that of the North Island. The natives have told me that they were very numerous on Banks Peninsula a few years ago, but that they had been destroyed by a chief called Te Rauparaha.[7] He is still alive and lives only on human flesh. He lives in the north of this island. He is expected to come this year, the natives say, to wage war. I tell them not to be afraid because we have 22 cannons to greet them with.

[3]

I cannot guarantee the truth of all the particular details that I have just been talking about, I don't have time to go any further.

[4]

Please pray for me, Reverend Father; oh how much we need prayers so as not to collapse in mid-career. I do not forget Mary; the thought that she is my mother and that I am a member of her Society fills me with consolation and joy. I enjoy excellent health, I am happy. I am achieving little or nothing worthwhile; I am a useless servant [A reference possibly to Luke 17:10: We are only useless servants - translator's note], but I trust in my mother and she will lead me to heaven.

[5]

Please give me your blessing, and I am, with deepest respect,

Reverend Father,
Your most humble and obedient servant,
Comte.
[6]

I wrote to you from Hokianga. Among the books I requested of you, I earnestly ask you to send to the Bay of Islands, for me, and with my name in it, the history of the Church and Menochius[8] at least. Oh, you know that we need that.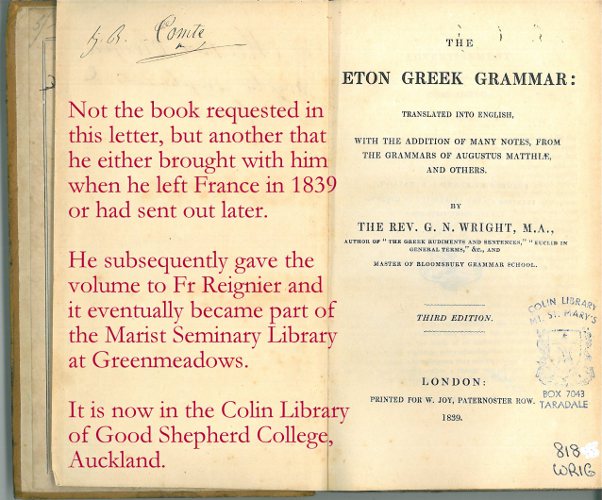 Notes